"Music expresses that which cannot be put into words and that which cannot remain silent. "
Victor Hugo
At St Anne's we believe that music is integral in the development of the whole child. Teaching enables pupils to experience diverse and rich opportunities from which they learn and develop a range of transferable skills, for example communication skills, pattern spotting and relaxation opportunities. Through the Music curriculum pupils explore creativity and expression using different instruments (including voice), techniques and technology to create musical compositions.
At St Anne's we use a combination of Charanga, Whole Class Projects and musical performances to cover the National Curriculum for Music. Charanga is a musical programme which provides teachers with weekly lessons, progression and engaging resources. The scheme adapts a spiral curriculum approach with skills revisited and mastered over time. The interrelated dimensions of music weave through the units to encourage the development of musical skills as the learning progresses through performing, listening and composing/improvising. To extend pupil development and add to their 'cultural capital' we also study a range of composers and musicians from the Baroque period to present day.
St Anne's Music Curriculum Road Map
Progression of Skills in Music
At St Anne's we provide pupils with memorable experiences in Music. Please take a look at some of these experiences below.
Our fantastic St Anne's Choir @Young Voices.
Our talented children from Year 2 performing on the PBuzz.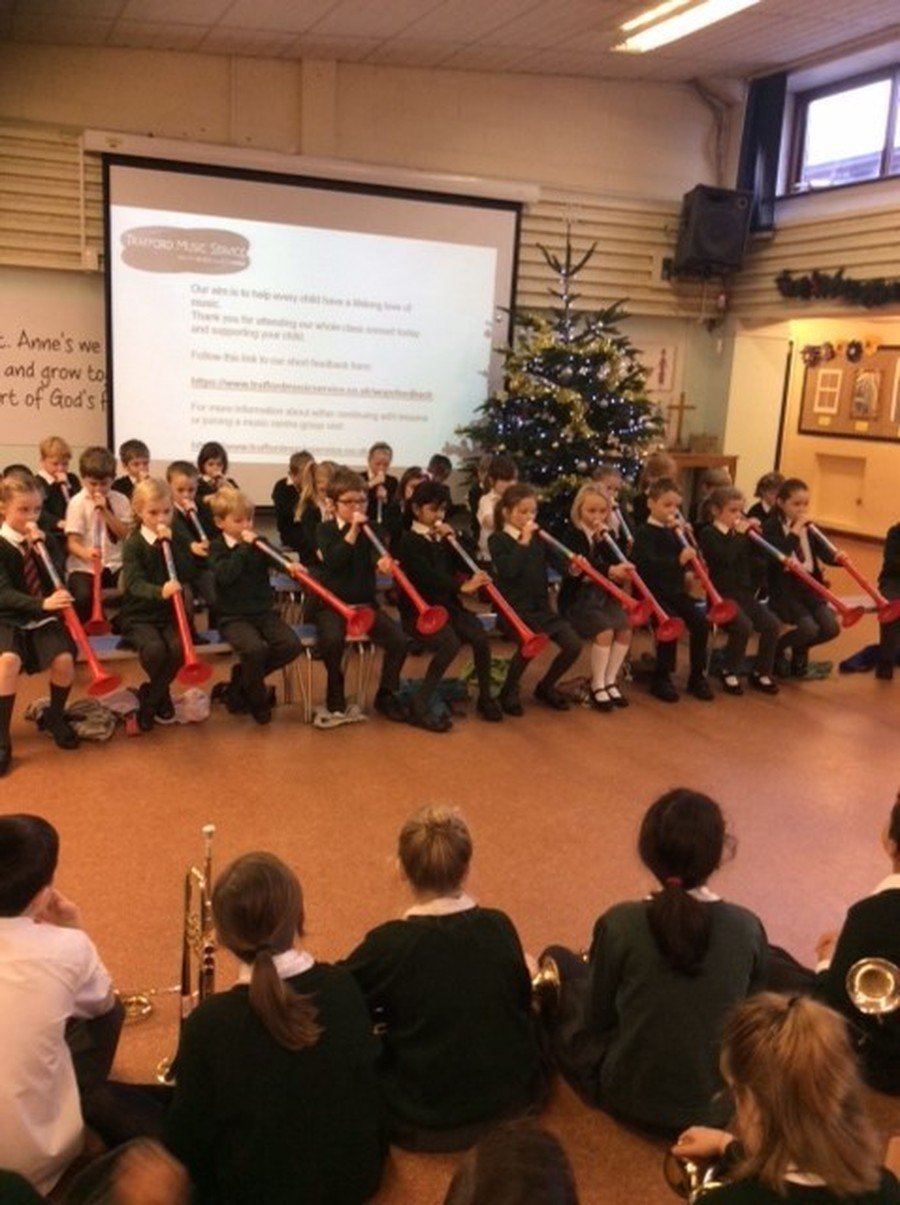 Children from Year 3 to 6 took part in a Violin and Cello Concert for the rest of the school and their parents.
Year Four took part in a ten week Wider Opportunity programme, learning about the trumpet. They also sang lots of new songs.
Year Two took part in a ten week Wider Opportunity programme, learning about the Ukulele. They improved their skills in strumming, picking and listening carefully to ensure they played at the right time. They also sang lots of new songs, singing in unison and as part of a round. They paid attention to changes in pitch and volume.