Art Day 2017 was a huge success in F2! We learnt all about the famous artist Kandinsky. The children then made their own Kandinsky style piece of art which we attached together to make one huge piece of collaborative artwork! We were so proud of their achievements. Have a look at the pictures below...
Foundation Two's School Trip to Eureka!
We had a brilliant day at Eureka!
We loved learning about different minibeasts we find in the garden before going on our own minibeast hunt through the sensory garden. We then explored inside the museum where we had a go at doing our own shopping in Marks and Spencer, we went to the Post Office and posted parcels, we drew out our own money from the bank, fixed cars in the garage, filled up cars with petrol to name but a few things!
Mrs Cardy and Miss Cooper were shocked at how they would look when they are
"really, REALLY old!"
Have a look at our pictures below to see some of the highlights...
We are enjoying learning all about our new topic
"From Antarctica to Australia"
During this topic, we will learn about wild animals from around the globe. As part of this topic we have already started learning about life cycles. We have enjoyed learning all about the life cycles of butterflies, frogs, chicks and ducks. We have been lucky enough to have duck eggs in our classroom and have loved watching them hatch and grow. The two videos below show one of or eggs hatching!
Dinosaurs
We have really enjoyed learning all about dinosaurs in F2 this half term. This week we were learning all about how big some of the dinosaurs were that walked our planet. We were amazed to learn that the longest dinosaur, Argentinosaurus, was up to 40 metres in length! We enjoyed going onto the playground to measure this out. In one of the pictures you can see the class really far away... 40 metres away to be precise! This showed the children actually how long Argentinosaurus was!
As well as measuring the Argentinosaurus, we had to measure the children's favourite dinosaur... The Tyrannosaurus Rex! We learnt that T-Rex was 12metres long and 5 metres tall. Miss Cooper did a great job of drawing a life-size T-Rex on the playground. The children then enjoyed standing around the edge of T-Rex and standing inside him too!
Science Day

We had a great day learning all about science. As we are learning all about Dinosaurs in F2, we decided that we would learn about who Mary Anning was and how she discovered lots of dinosaur fossils. She was most definitely a woman who "Changed the World!" We even had a go at making our own dinosaur fossils
The children loved the "Mad Science" assembly where we learnt all about sound travel.
And of course, we loved coming to school dressed as scientists for the day...!
Continuing on from our Science Day theme, we conducted a science experiment to explore rocket launching! Check out our videos to see how far into the air we could send our rockets...!
World Book Day 2017
We had lots of fun looking at the children's favourite books that they brought in to share with us.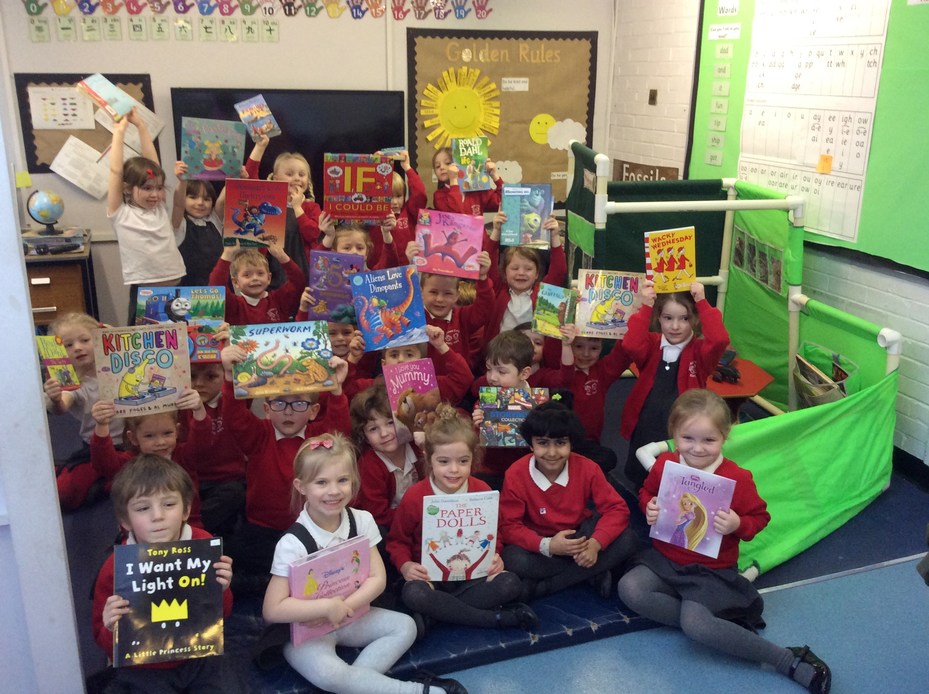 Wow! What an amazing end to our "Is Anybody Out There?" Topic. Foundation Two absolutely amazed their teachers with their knowledge of space and what they have learnt over the last few weeks! Take a look at the facts they came up with below based on their recent learning...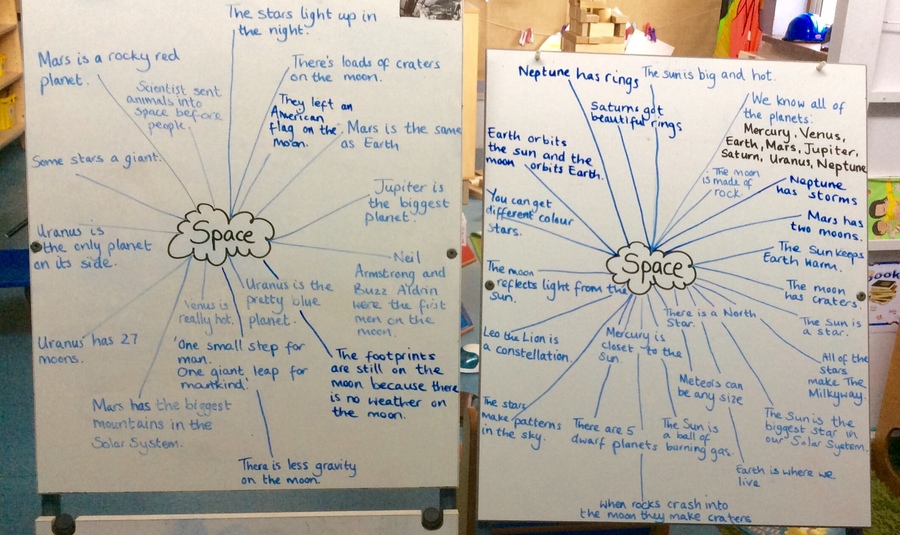 The children loved their annual visit from The Pop Project! This years focus was "British Values". Foundation Two, along with the rest of the school, learnt about music and instruments from each of our four home nations whilst singing and dancing along to some famous songs...
We had a brilliant day in Foundation Two celebrating Chinese New Year! The children tried all sorts of activities such as number writing, letter writing, experimenting with chopsticks, making Chinese lanterns and listening to Chinese music. However, I think the best part of the day was making and tasting delicious vegetable stir fry! Have a look at the fun we had...
Our topic this half term is...
Is Anybody Out There?
As part of our learning all about Space, we have been doing some drama work based on the story Man on the Moon (a day in the life of Bob) by Simon Bartram. The children have loved acting out the story whilst listening carefully to the narration. Below you can see our budding actors and actresses in action!
A new half term means a new topic! We will be learning all about space in our new "Is Anybody Out There?" focus over the coming weeks. The children have already started learning about the different planets, what our solar system is and have enjoyed learning our space songs.
The children have been making good use of their wet weather gear on the school field. They have loved having time to explore their surroundings without inhibitions which has been lovely to observe. Have a look at our pictures below...
Another busy day of visits from People Who Help Us! Today's visits included Firefighter Mike from the airport and Louise the Midwife. The children loved learning about the different roles...
Another successful Foundation Stage Christmas party. The children loved dancing, playing pass the parcel, enjoying their party food and of course meeting Father Christmas and getting a present from him. Thanks to all the mums, dads and grandparents for providing the yummy party food! Hope you enjoy looking at the pictures.
What a fantastic performance by all our Foundation Stage children. The Wriggly Nativity was a huge success. F2 were all amazing. And we can't forget our fabulous narrators from Year Six! I'm sure you'll all agree that they looked fabulous in their costumes...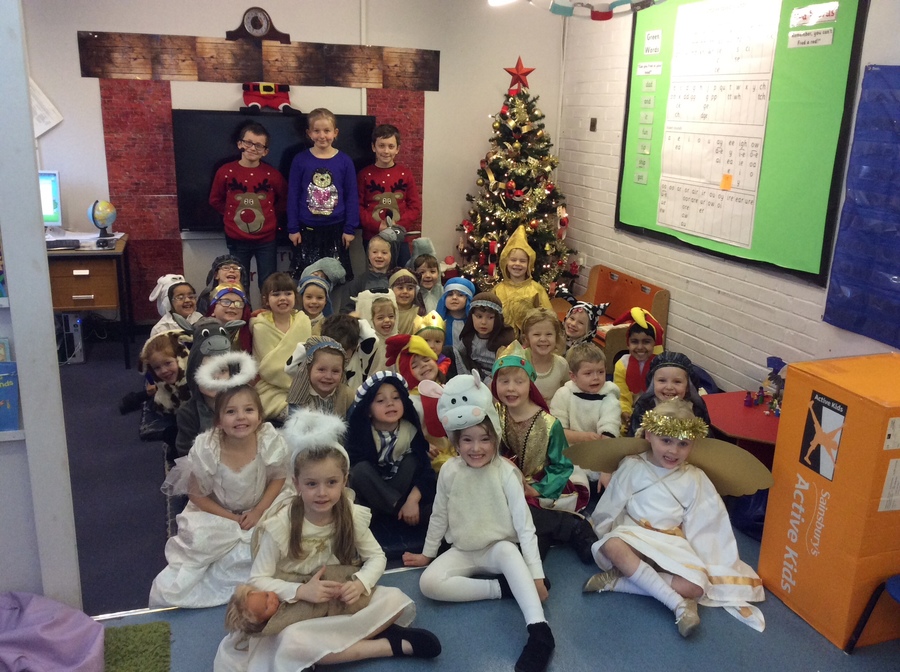 Our "Can Anybody Help Me?" Topic continues during Christmas madness! We have had a visit from the fire brigade who taught us all about how they help people. The children explored some of the different equipment the fire fighters use, they got to go inside the fire engine and they even got to have a go of the hose...
The Rhyme Rocket visit was brill! I'm not sure who laughed more - the children or the staff!